We often receive questions from our clients about the links they provide to websites other than their own. Are you responsible for the accessibility of the websites you link to? For example, do you link to a website providing information about your athletics program? Do you rely on a vendor to host your board documents? What if you want to provide information about a local community park your school families may want to visit? Does the park's website need to be accessible?
These are all great questions! Let us help you understand what federal law requires you to do and what we recommend doing. In a recent conversation with the Office of Civil Rights, we were happy to hear them answer these questions with the same instructions and advice we already provide our clients: if you link to information outside of your website that you require your viewers to visit in order to obtain information about a service or program provided by your school, the website containing the information needs to be accessible to all users.
Below is a list of website examples we often see school's link to and which need to provide accessible websites in order to keep your website barrier-free.
Teacher websites
Grading systems
Parent and student portals
Athletic services
Websites hosting board documents
Now you are probably asking yourself, "How am I supposed to know if a website is compliant?" We recommend requesting a statement of accessibility from the vendors or other websites containing the information you need to provide. This statement should show that their website follows federal Section 508 standards (which also requires compliance with web content accessibility guidelines, or WCAG 2.0). You will also want to be sure the website is monitored for ongoing compliance. If they periodically update their statement of accessibility, we recommend requesting they send you an updated statement whenever available.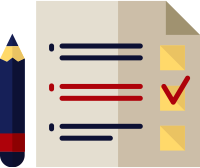 Once you receive confirmation that their website is compliant with federal guidelines, we recommend performing a quick check for a few of the obvious items we often see fail accessibility testing. Our DIY Website Accessibility Audit article will help you do this. If you complete some easy checks and quickly find barriers, we recommend reaching out again to confirm accessibility.
What about websites such as a community park that you are simply providing as "extra" information but that does not contain information about a service or program you offer? We recommend only linking to accessible websites; however, the accessibility of these "extra" websites is not required in order for your website to be in compliance with federal accessibility guidelines.
Consider the following scenario:
Your school is having a field day at a nearby community arena for your elementary students. You link to the arena's website because it contains directions to the arena as well as information on where to park and the amenities offered to your students while you are there. In order to keep your website accessible, the arena's website needs to be accessible as well because it is providing information your viewers will need to know in order to attend the school-sponsored event. If the arena has services such as food trucks that you do not require your students to use and there is a link to the food trucks' websites from the arena's website, you would not need to guarantee the compliance of the food trucks' websites.
Now let's think about this from another perspective. Let's say your child will attend the field day. You visit the link to the park to find out where you need to park. The map of the parking is color coded. This is a great way to help users quickly interpret information. Oh, but I forgot to mention one little thing. You are color blind. The map designates the area highlighted in red as the parent parking lot. You can see the map, but you can't tell exactly where you need to park because you cannot distinguish the difference in the lots highlighted in red compared to the lots highlighted in green. When you arrive to the park, there appears to be more than one school having a field day at the same park. We sure hope you park in the right place and avoid having to walk an extra mile to your event like the other, non-visually impaired parents were able to do.
For more examples of disabilities affecting website used, visit W3C's Web Accessibility Initiative website. Their web accessibility perspectives page offers videos to help everyone understand the benefits of providing accessible content. This is a great tool to help your website developers understand and implement accessibility.
As you can see, you really need to think about what you're linking to. We feel it is vital to provide everyone with the same resources. If you are only interested in providing enough accessibility to pass federal guidelines, you still need to consider why you are providing a link and whether or not it is something that is just "extra." When in doubt, we strongly recommend confirming accessibility of every website before linking to it.
You will notice we always recommend erring on the side of accessibility. This is because we understand the importance of a barrier-free website. We believe everyone, including those who are visually impaired, cognitively disabled, hearing impaired, or disabled in any other way be able to access all of the same information as someone without limitations. If you need help ensuring your website is barrier-free, contact us today and let us help you navigate your journey to accessibility!