School website management can be a huge advantage to your school's branding and communication efforts. Find out what works and why.
The successful schools are not just the ones who succeed in educating their students. Many schools are incredibly effective. Unfortunately, if no one knows about their successes, even though their students are more likely to get into the college of their choice or land the job of their dreams (which is really the goal), the staff, leaders, and methods behind those successes will remain unknown and underappreciated. It doesn't have to be that way, but to avoid such a situation, planning for effective communication must be a priority.
The schools that get the accolades, attract students and staff, and produce pride in their students, parents, and community will implement smart public relations and marketing in all of their communication efforts—and especially their website and social media communications. To manage your website and social media effectively, which is the mainstay of all your marketing and public relations efforts, it takes strategic communications planning.
Download our FREE eBook: How Successful Schools Market Themselves.
Communication means Focused Messaging
So, what do you need to do to be among those schools that are doing it well?
Consider your audience. Filter all messages through your audience lens—their needs and interests. As communicators, we call this the WIIFM factor (WIIFM = "what's in it for me"). You need to show how or why what you are sharing with them matters to them. How does it affect their child? Their time? The things they care about? This is a universal truth, an answer we all seek in every conversation. So, make sure all of your messaging answers this question right up front.
Reinforce your key messages and values in all aspects of your communications. Nothing should be haphazard about your messaging (whether it is an e-mail, a website, or a Twitter post). All communications should reinforce your key messages, and your stories are proof that you are succeeding with your goals.
Be transparent. This is a popular phrase and often used when it comes to monetary matters. Here we're referring to being transparent as the reason behind the decision, event, or action. For example, when your elementary school has an assembly and invites a presenter, there is a strategy behind it that will benefit the students. Tell the parents the "why" for this particular assembly. Let them know what their kids will get out of it and how they might benefit. Or, better yet, give them an actual example of one student's experience. Tell them about it. If parents and community members really understand all that goes into a simple lesson plan, there will be so much more trust and respect in our country for the educators teaching our children. But they don't know if we don't tell them. Successful schools do tell!
Avoid the curse of knowledge. As educators, we are often so familiar with our environment that we assume everyone else is familiar with our wording, terminology, or jargon. Because we know something, it becomes hard for us to imagine not knowing it, and we, in turn, become poor communicators without realizing it. Communicating clearly means keeping it simple and to the point. Don't assume your audience understands your world—they won't. At best you'll risk being unclear, and at worst you'll come off as condescending.
Toot those horns. Successful schools get everyone willing involved in the role as cheerleader for your school and its brand. From students and alumni to parents and teachers, they encourage others to become vocal and enthusiastic school ambassadors. They use testimonials and success stories in their social media, videos, public relations, and all forms of communications. Encourage spirit and enthusiasm on all fronts, from the open house to graduation, to generate and share stories. Share them on the website and social media and in marketing videos and, if you have one, in the administrator's blog.
Message integration. It is important to integrate your key messages across all forms of communication. That means you reinforce your website messages on Facebook and Twitter. You repeat this school year's key messages frequently at staff and governing board meetings. You'll want to share and recognize stories about how your staff put them into play within the classroom at every opportunity. You'll want to be sure that everyone in your school from the custodian to the Principal knows what your key messages are for your school. Do they know what you want people to talk about when they talk about your school?
Consistency. Be sure everyone knows the rules about brand consistency when it comes to your website, social media, newsletters, signage, business cards, and even spirit items. That means everyone should understand that proper and consistent use of your logo, mascot, tagline, colors, and messaging will be enforced. So, make sure that you have branding guidelines in place.
The school's website, and this is particularly true of the individual school websites, not just the main or district office website, should be the hub of your news, information, activities, stories, and events at your school. Once their student is enrolled, parents typically visit the child's school website, and it should be a reliable go-to resource that is always current. With just this single tool, you can do a remarkable job of displaying your successes and strengthening your reputation in your community. If you want to be one of the successful schools, you must get the word out. Your website and your social media are your own personal media outlets. Use them well!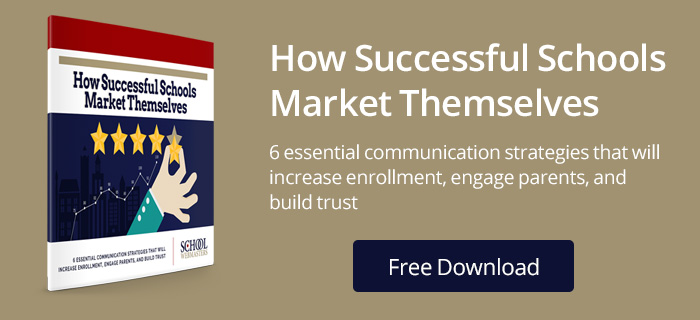 Bonnie Leedy, CEO