Recently, I went on a trip with my mother and sister-in-law to Billings, Montana. Yes, in November. Yes, it snowed the whole time. This was our first trip to Billings, and we weren't sure where to stay, so we selected a place with a good deal and positive reviews on Expedia.
When we arrived at the hotel, no one was at the counter to serve us. Instead, we were greeted by this sign:
"Please RING the BELL for service. We really don't mind! Sometimes, we are multi-tasking in the side office or in the laundry room. We are so glad you're here!"
Were we annoyed no one was there to greet us? Not at all! The sign had a wonderfully friendly tone, and explained why no one was manning the counter. We patiently waited just a minute to see if anyone had seen us come in, and then I rang the bell.
Right as I pushed the button, a concierge walked around the corner. The bell wasn't a simple ding… It was a long, drawn out doorbell tune that played up a scale and then back down. I grimaced and looked at the concierge's face to see if I had annoyed her by ringing the bell—I could just imagine how hearing that tune every day may grate on her nerves.
Can you believe it? She wasn't even a little annoyed that I had rung that bell just as she appeared. She came up to the front desk smiling and welcoming us! I hurriedly said, "I'm sorry for ringing the bell, I didn't see you coming." And she said, "Oh don't worry about it! I don't mind at all; that's why we have it there!" And you know what? She meant it.
Once we were checked in and ready to head off to our rooms, I turned around and snapped a picture of that service sign. Not many "ring bell for service" notes impress me enough to take a picture. Let me explain why this one stood out.
A Friendly & Inviting Tone
First of all, I love the line "We are so glad you're here!" Just reading it made me feel welcome and appreciated. At your school, how a visitor is greeted is a clear indication of whether visitors are seen as intruders or welcome guests.
There are lots of ways you can create a friendly, welcoming environment everywhere, from your front desk to your school website. Keep in mind that eye contact, a smile, a wave, a handshake, or a "good to see you" or "how are you today" go a long way in setting a welcoming atmosphere for your schools.
As parents and community members visit your campus, remember that first impressions are lasting impressions, and little things make a difference. Providing helpful instructions instead of "thou shalt not" rules and using polite instead of commanding verbiage (please sign in versus visitors MUST sign in) help your guests feel comfortable and welcome at your school. A simple note reminding your visitors that it is "for the safety of our students" will help to quell any annoyances about policies or procedures that might seem complex or cumbersome.
Make a Promise and Back It Up
Have you ever noticed that sometimes a first impression can be misleading? For example, imagine how we would have felt if the hotel employee had come out irritated that we had taken her away from what she was working on in the office or said, "I'm coming!" when I rang the bell.
The hotel's "ring bell for service" sign made a promise ("we really don't mind… we're so glad you're here"), and then the actions of the employee backed it up. That is really what excellent customer service is about—making a promise and then following through.
How do you envision the welcome desk on your campuses or at your district offices? Do your staff and teachers seem to mind when a parent or community member interrupts their day with a visit or a phone call? Is every one of your employees on board when it comes to providing excellent customer service?
That last question is essential. Imagine: a parent calls the front office to let them know they will be bringing their child's lunch by later that day. The parent gets a happy, helpful voice on the phone that let's them know it's not a problem and explains where they can drop off the lunch. But when the parent shows up at the school, he/she encounters a grumpy curmudgeon at the front desk who sighs deeply and grudgingly says he/she will get the lunch to the student.
When your school makes a commitment to provide a friendly, welcoming environment, you're making a promise to your publics that once their children are enrolled in your school, you will continue to treat them with respect and provide excellent customer service. When you follow through on this promise, it builds trust and loyalty. When you don't, it creates disillusion and uncertainty. Simply put, it leaves a bad taste in the customer's mouth.
Download our FREE eBook: How Successful Schools Market Themselves.
A Bad Example
Let me tell you about the time a restaurant chain made a promise it didn't back up, leaving me with a bad taste in my mouth. The tagline for this particular restaurant is, "When you're here, you're family!" My friend chose this restaurant for her birthday dinner several years ago. You know how most restaurants sing you a song and bring you a complimentary dessert or scoop of ice cream on your birthday? This one didn't. When we asked about it at the end of our meal, the server told us, "We don't do that here." I was genuinely surprised and said, "Wait, aren't we supposed to be like family when we're here? That's the motto, isn't it?" The server said, "I'm sorry, we've never done that. It's company policy."
I don't know about you, but I get dessert from my family on birthdays. And, for me, there was a definite disconnect between what this restaurant chain purported in their tagline and the actual experience at their restaurant on a special occasion. I'm glad to report their policy on birthday desserts has since changed; however, because of that experience, I rarely return to that restaurant and, despite its policy change, I certainly don't choose it when I'm taking my friends and family out for birthday dinners or special occasions.
How It Translates to Marketing for Your School
Consistently creating and providing a welcoming, friendly environment is the key to great customer service. But why does it matter?
The short answer is that it is not enough to provide excellent education service; we must also create relationships and emotional connections with parents, students, and community members. That's what we mean when we talk about school public relations.
Public relations is often a misunderstood concept in the overall stratagem of communications and marketing. School public relations can be defined as the development and maintenance of a favorable public image. Your school's public image consists of your school culture, reputation, and brand—all of which have ties to your school customer service.
I told you about my great experience at the hotel in this blog; I even wrote a review for them on Google where I mention how wonderful the customer service was. I also told you about the less-than-favorable experience I had at a restaurant, and I tell that story every time a friend asks me why I don't want to eat there. This is word-of-mouth marketing, and it happens every day in personal interactions, online, and in social media. Your customer experiences translate directly to school marketing.
In our increasingly technological society, our social interactions and simple acts of courtesy and kindness are more important than ever. Even one person's attempt to provide above-and-beyond customer service to those with whom they come in contact can radically improve your school culture and your school's reputation and brand. Imagine getting everyone on board!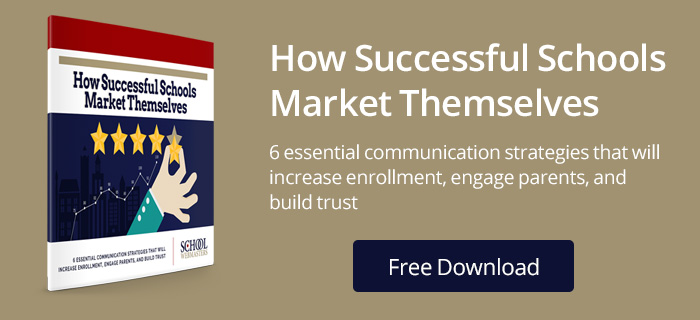 Katie Brooks, School Public Relations Manager