Welcome back, class! If you're stepping in to this two-part series about effective social media management for schools without having read the first part, we invite you to take a moment to do so. We'd love for all of our readers to have the complete experience of our little self-help course.
Quick Recap
Last week, we established a few important ideas to get you started. Here's the gist:
As a school administrator, you realize that social media IS for schools—yay, you!
You've chosen your favorite platforms and created social pages for your district or school.
Now what? You know you need to use your pages; you just need to brush up on the most effective management methods.
Timing matters. Recommended post frequency varies by platform, and posting at the right time of day for your community will increase engagement.
Finally, we introduced a discussion on the importance of post quality. We listed some of the elements a well-constructed social media post should include to increase the likelihood of comments, likes, shares, and link clicks. Then, just for fun, we left you hanging.
Download our FREE eBook
#Social4Schools: A how-to guide for creating and managing an effective social media presence for your school
Now that you're caught up…
You understand the importance of post frequency and timing, so now you need to focus on post content. Social Media has taken on a culture of its own, and your audience is expecting a specific type of experience with each individual platform. Still, while character count and image sharing varies from one platform to the next, all of your posts will likely perform better (more likes, shares, retweets, and link clicks) when they include at least one of these elements:
Themes & Hashtags
Photos & Videos
Graphics & Gifs (legal ones!)
Campaigns/Contests
Cross Posting
Let's break it down.
Themes & Hashtags
A theme is just something that ties related posts together, whether on certain days of the week or for a certain time period. Themes can even help you build a post schedule and curate content. Likewise, using hashtags in your Twitter, Facebook, and Instagram posts allows followers to view other related posts that might share a specific theme. You can even combine these ideas by using, for example, a hashtag theme to organize what you post each day of the week:
#MotivationMonday: post a motivational quote or a real-life inspirational story about your students.
#TechTuesday or #TuesdayTips: post a helpful article about education technology or a tip teachers, parents, or students can use to enhance their learning experience.
#WebsiteWednesday: Draw attention to a recent page or update on your school website. Don't forget to include a link to drive traffic to that page!
#ThrowbackThursday: Post an old photo or school project, or post a shout-out to a school alumnus and share what they're up to today.
#FunFriday or #FriendlyReminderFriday: Post a funny cartoon or meme (be sure it's legal—more on that later). Or you can creatively offer a friendly reminder about school procedures.
In addition to using weekly themes to organize and time your content, you can create hashtags to drive interest toward a specific program or event at your school. The International School of Ulm, Germany, places a great deal of emphasis on service and global citizenship. They use the hashtag, "#ISUcares" with all posts that relate to their fundraising and service-oriented posts. All followers need do is click on the hashtag to see all the outreach programs the school is involved in. Not only does the hashtag spread awareness for important events and projects, it showcases an important part of the school's identity and may even play a role in a potential parent's decision to choose it over others.
Knowing which existing hashtags to use and when to use them is just as important as creating your own hashtags; both approaches create buzz for your programs. Educators have created many hashtags to organize specific education-related topics specifically for the purpose of sharing resources on social media. Being aware of these and using them appropriately can help your school partake in a global conversation about the field of education. For a list of popular, education-related hashtags, check out TeachThought's "The Complete Guide to Twitter Hashtags for Education." While the article mentions Twitter specifically, using hashtags has become standard on Facebook and Instagram as well, so feel free to use them across multiple platforms.
Photos & Videos
When it comes to your social media posts, your community wants more than to just read about the latest talent show. They want to see it! Online communication is exceptionally visual in nature, so you need to have a plan in place for sharing school photos and videos. The first step is being sure you have a photo release form that specifically includes social media. Chances are good you'll have parents who won't give their permission for you to use their child's image on your website/social media pages. With that in mind, be sure you're cross checking the photo/video you're about to post with the permission forms you have on file. The fact is, school posts with original photos and videos get more engagement than those without; just be sure you're following the photo release guidelines for your school/district.
Graphics & Gifs
Even when you're not sharing photos and videos featuring your actual students, parents, teachers, and administrators, your posts should include at least some form of visual content. It can be as simple as using a graphic or .gif to help announce an upcoming fundraiser vs. just posting a line or two of text about the event. Visual content helps ensure maximum engagement; that said, how well do you understand image copyright laws? If your answer is, "not well at all," you're not alone.
Image Copyright
There are two solutions to this problem. First, learn about image copyright, and be extremely careful when it comes to sharing images that are already out there on the web. Gone are the days when you can just copy and paste a Google image into your social media post and expect that no one will care (really, no one should ever have been doing that!). These infringements may have gone ignored in the early stages of social media content sharing, but companies have since clamped down on the illegal sharing of copyrighted images online. If you get caught, it will be one of the most expensive lessons you've ever learned. Instead, educate yourself about the laws and follow them. There are some free-use images for educators; just be sure to read the small print. For peace of mind, you may want to purchase an annual license that will grant you the use of stock photos. The following are a few resources we recommend to help get you started:
DIY Graphics
A sure way to avoid image copyright issues is to just create your own social media graphics. Is it time consuming? A bit. But really, once you get the hang of it, it's not much more time-consuming than finding that perfect, legal online image. You can be sure the graphic will communicate exactly what you want it to about your school brand, and you won't have to worry about image copyright because you'll own it! Like everything, there's a learning curve when it comes to creating your own graphics; however, once you get the hang of it, it's actually pretty fun and easy. Most custom graphics sites contain a library of free background images, or you can upload your own pictures and add text. Here are a few of our favorite DIY graphics sites:
Campaigns/Contests
Social media campaigns are a great way to both build your following and keep your existing followers actively engaged with your posts. Conducting a social media campaign means actively starting conversations online, driving traf?c back and forth between your website and social pages, and expanding visibility. It basically amounts to inviting your followers to play a game with you as a way to encourage interaction with your school brand. They'll play because you'll reward them with recognition or prizes, like a month-long reserved parking space or an item from your school spirit store. You'll be rewarded with extra exposure for your school. Everyone wins!
For new social pages trying to gain followers, your campaign should focus on offering some kind of prize in return for likes, follows, shares, etc. Your first social media campaign can be as simple as announcing a drawing for everyone who "likes" your page within a given time period (announce it from your social pages and from your website). All you have to do is record the names of the people who follow you within the allotted time, put the names in a hat, and select a winner!
Here are a few other social media campaigns you can try to increase and engage your followers:
Student/Family Facebook Cover Photo: Invite families to take a creative picture that communicates how much they love your school. When they submit their photos, let it spend a week serving as your school's cover photo.
Photo/Video Contest: Invite families to submit a photo or video of a favorite holiday tradition, and choose a favorite to win.
Like to Enter: Post a photo of your staff enjoying their winter break, and invite followers to like it over a certain period of time. Enter those names in a drawing, and offer a prize to the winner.
Share to Enter: Post a marketing video of your school, and invite followers to share it with their friends over a certain period of time, entering those who do into a raffle.
Find it on Our Website: Invite followers to find something specific or newly added to your school website (new athletics schedules, a letter from the principal, etc.), and post a photo of the page with the hashtag #IFoundIt. Drive traffic to your website, and teach your school community to use it as a regular communication resource!
Share Success Stories: If you're a district or school association, invite member schools to send you a success story from their campus that you can share with the whole district. Check out the way Region 9 Education Cooperative recently started a campaign to shout out to member districts with the hashtag #Region9SuccessStories.
Ongoing social media campaigns are a great way to encourage a more interactive atmosphere on your social pages. Remember, your followers are there to socialize and get to know you as a school outside the serious business of classroom learning, so let them!
Cross Posting
Cross posting is about directing your followers' attention to the things you want them to see. Where your website pulls visitors in, you can use your social media pages to push them precisely where you need them.
Use your FB page to attract new Twitter followers by posting a link to your profile there.
Use your Twitter page to encourage resource sharing on your school Pinterest page.
Remind both audiences to follow your school on Instagram.
Using all of your school social pages (if you have more than one) to drive traffic back and forth to the other platforms will help you grow a stronger following on each one.
And speaking of driving traffic—as a school, one of your social media goals should be to drive traffic to your school website. After all, your website is where your community learns about important things like your history, your mission and vision, and your administration and staff, and it's where parents get valuable information they need about the day-to-day operations of your school. District calendar, bell schedule, athletics packets, scholarship information—it's all on your school website (or should be)! Your social media pages help bring a little extra personality and community involvement to your online presence, but you should also strive to use them to grow awareness about the importance and usefulness of your school website.
Keeping Up
There is a time commitment involved in having a healthy, engaging social media presence. To be effective, your school's social media pages need daily attention. What's more, your page manager needs to keep up on the latest trends when it comes to social post content; otherwise, your posts may just become another thing people scroll past on their way to more engaging content. Social media followers can have a short attention span, so it's best to use the most current methods to get their attention before they move on to something else. They're used to an information-at-their-fingertips, out-with-the-old-in-with-the-new kind of environment, so that's what they'll expect of you.
Yeah, but…I'm an educator, not a social media manager!
We won't lie; it takes time to keep up on the latest trends and practice employing them effectively. For this reason, it might make the most sense for administrators to hire professionals like us to manage their schools' social media presence. Let's face it—your plate is already pretty full! The benefits of social media for schools is a given, but it's probably not what first drew you to the field of education. And this is what we do! Hiring social media experts to manage your pages for you means your biggest responsibility concerning those pages becomes communicating effectively with your content manager. Simply send your page manager photos, calendars, and exciting news, and let him/her worry about transforming the information into engaging social media posts, scheduling them appropriately, and watching your page analytics to ensure you're giving your audiences what they want. It's not at all about relinquishing control of your social media presence; rather, it's about giving the heavy lifting to the professionals so you can just enjoy it! Farming out social media to the experts is a growing trend for businesses whose goal is to communicate the superiority of their brand and market to potential customers. Why should schools be any different?
We are proud of the one-on-one partnerships we enjoy with our social media management clients. We believe educators like you should bring in experts for things outside your skill set so you can focus on the tasks directly related to your field. That's how we support you in what we believe to be the most important job there is—educating future generations. Find out more about partnering with us today.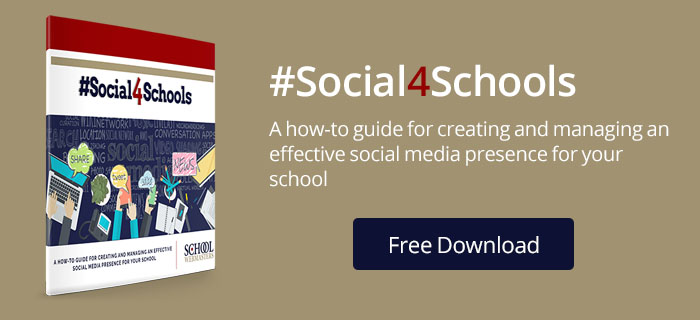 Anna Nolan, Social Media Director