Countries like the U.S. are home to many communities with diverse cultures and languages. Every year families from all over the world move to the U.S. to start a better life, which means there are more and more students in schools whose native language is not English. A recent study showed that students who speak something other than the English language made up more than 22% of all students in the U.S. in 2019, up from 18.1% in 2000.
Schools need to improve their interactions with these families more than ever. One crucial strategy may be website localization, as parents and students visit it regularly for information. There are seven steps to creating localized websites.
#1 Define a Strategy
Before you can begin, you need a detailed action plan to check the website localization quality and determine whether it is meeting your goals. First, divide the project into different parts so you can track progress. Key features include UI elements, front-end content, support databases and other vital components for internet users.
Next, set realistic milestones for each segment to determine how long it should take and to see if you are falling behind.
Then it's time to define several key performance indicators (KPIs), such as SEO rankings, visitor numbers, user experience, and conversion rates.
In addition, you can measure the following:
SEO keyword analysis
Engagement on social media channels from students who speak various languages other than English
The cost of translated content
Pageviews from the new audience
#2 Internationalize Content
Internationalization means creating content so it can conform to local standards later. If you keep localization in mind when writing, you'll have few problems translating content into other languages. For example, don't use specific cultural references that are unfamiliar to a non-English audience unless it's necessary.
If there are too many culture-specific words and phrases in the content, the localization process becomes more complicated, and errors are more likely to occur. For example, you need to keep in mind that each country may have a different education system. So when you talk about students, it's better to mention their age than their grades.
Instead of saying, "there will be a school theater on Tuesday for kids in grades 5 to 7," you can say, "there will be a school theater on Tuesday for kids aged 10 to 13."
#3 Incorporate Localization in the Design ASAP
It's time to change the website design, code, and structure. Your website service provider can customize character sets, currencies, and code to make it compatible with different languages.
Usually, schools develop the entire website in English only at first and then add other languages. However, this only adds to your localization efforts and expenses. The larger the volume of content and number of pages, the greater the risk of bugs and errors.
Suppose you start localization early in the development process. In that case, you have more time to fix bugs, make text expansion or shortening adjustments, and choose layouts that are appropriate for the new language.
#4 Determine the "Other" Language
Before you communicate with parents in their own language, you need to do some basic research. There may be multiple languages depending on the state, city, and school district. You can also use your data to find out what nationalities make up your school's student body. If their language is not English, this is an excellent opportunity to localize your website into a different language.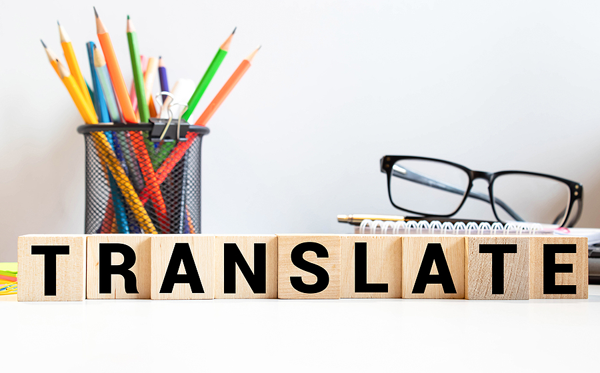 #5 Start Translating
Isn't website translation the same as localization? No, localization is about adapting the entire structure and functions of the website (such as design, code, layout, etc.) to another language's linguistic and cultural aspects. The translation process is only one part of this process, where the English text is transferred into a local language. Basically, there are two ways to translate website content:
Machine Translation
Machine translation is the process of translating a text from one language to another using software. The software uses algorithms and grammatical rules to translate the content automatically. This is less time-consuming and easier than human translation.
The most well-known software is Google Translate that, despite its advantages with short, simple sentences. However, while it isn't perfect, it does provide a variety of languages and at this point is an affordable option that does the job.
Human Translation
Here, you hire freelance translators or professional translation services to do the job. In the last decade, human translation has changed from manual to semi-manual through computer-assisted translation programs (CAT). By using translation memory tools, translators no longer have to edit duplicate texts, which significantly reduces their workload and increases their speed.
#6 Time for Quality Check
Now it's time to check the localization output for usability, suitability for mobile devices (color, layout, etc.), and various grammatical errors or typos. Since you are dealing with a large amount of content and code, you need professional tools that can automate part of the process.
This is the part where you check the performance indicators and milestones to assess the quality of the website localization process. You should also examine the translations for correctness, consistency, context, and correct spelling and grammar errors.
#7 Use the Right Service Provider
By now, you know that the website localization project is a complex process where you need to monitor the quality of work on design, coding, layout, translation, and other areas. You can't do this manually. Instead, you need many tools, including:
A tool to manage the localization workflow and monitor the progress of each task.
Plugins and QA tools to find and correct spelling and grammar errors
A continuous platform to easily integrate localization into the development process
Chances are, you and your team have spent most of your budget, effort, and time running the school and don't have the expertise or infrastructure to monitor the output quality. There's a solution to this problem: you can hire a reliable website service provider with the knowledge and tools to save you time, money, and many costly mistakes.
Luckily, we at School Webmasters can effortlessly take you through all of these steps. Our professional copywriters write your content to include wording and keywords that will help localize your school's website to make it the most effective for search engines, guiding your school, in your specific market, to include wording that will help your site be found locally and to help you reach your specific, potential customers—parents of new students and amazing staff to further your mission and goals. Just contact us and let us help you out.
Posted by Bonnie Leedy, CEO, School Webmasters, LLC.