You already know the value of a school blog, right? It helps attract new students, engages the parents, and establishes you as an expert in education. Using it as part of your school marketing efforts with Inbound Marketing and search engine optimization can greatly increase enrollment.
But…knowing and doing are two very different things, right?
So, to make this easier, let's break it down. Let's begin with how to get started on your own school blog.
Step #1: Pick a blog purpose
Why do you want a school blog? What is your end-goal?? If you don't have a purpose, it might be interesting and even fun, but it won't move your school communication efforts forward. What is your purpose? Is it to broaden your communication efforts or share school news at a more personal level? Is it to gather feedback from parents and students or maybe to build a respected brand for your school?
Whatever the goal, writing it down and keeping it where you can see it as you write each blog will help. It could be a single line or a few words, but it should be meaningful to you, and you should keep it front and center as you write. Incorporate your school's mission in your blog purpose as well, and you'll vastly expand the value of each blog post. Every post will support your school mission!
Step #2: Create a blog schedule
Start by taking a look at your school calendar, and then incorporate the goals from your school mission statement. Ideas will include school announcements, events, changes, activities, and of course, the purpose behind it all. Create a massive list of all the possibilities, and then start putting them into a calendar.
Include resources you'll need, which will include the people who are in the know about the topics you've identified so you can request their input in advance. Involve those "subject matter experts," and you'll have better blog articles, lighten your own load, and recognize others for their contributions. Oh, and consider guest bloggers from your community or other experts in the field (you can provide them with a link back to their website and ask them to promote their post to their audience as well).
Whether you are going to blog once a week or once a month, create a schedule you can be consistent with. Whatever you do, don't start a blog and then go dark. You'll lose any audience you've earned along with your credibility.
Schedule your topics as far in advance as possible. Here at School Webmasters, we plan for three months out, but it is likely your school could plan out much further than that.
Step #3: Create a blog process
The next step is to create a process that will make your blog posting successful. Answer the following questions:
Who will write the posts (or will it vary from post to post)?
How often will you commit to posting your blogs?
What is the purpose/topic of each blog (ideally tied to and supporting your school mission)?
What is the call-to-action for each blog?
Step #4: Create a blog content calendar
Once you've come up with ideas about who will write the posts (so you can form your team of contributors), you'll want to work on a time-frame and schedule. By determining the posting dates, you'll give blog contributors time to prepare, gather photos, research their topic to ensure they will meet the posting date goal. Here is a simple spreadsheet example that can help you keep on track.

(Sample blog content calendar)
Step #5: Share and promote your blog
You'll make sharing your blog easy by including social media sharing icons (buttons) with each of your blog posts. Include all the channels commonly used by parents like Facebook, Twitter, Instagram, LinkedIn, and Pinterest. Of course, you'll also post links to your blog on all of your school social media platforms as well.
Here are a few more tips for promoting your new blog:
Include images. Be sure to include photos or images with your blog. Not only will it make the post more interesting, but it is what will grab readers' attention on platforms like Facebook.
Engage with titles. Consider your blog post titles, and make them compelling enough to click on. Try engaging, open-ended questions readers will want to find the answer to. Instead of a boring "Check out our latest blog post!" make it irresistible with "Why school attendance is a bigger deal than you thought!" or "How parents make our school succeed or fail," and watch the engagement skyrocket.
Promote at every chance. Posting on social media and on your school website is the first step to promoting your blog, but you need to be sure to include other avenues as well. Do you have a school newsletter? An email or parent notification system? If so, be sure to include a link to the blog post on a consistent basis. Provide a link to the blog on all your forms of outbound communication, whether it is school stationery, flyers, electronic signage, press releases, or the website. Make it easy to find!
Encourage blog sign-ups: Be sure to include an email sign-up on your school website so viewers can be notified when you post the next blog. And include a link to the blog post in each issue of your school newsletter.
Repurpose your blog. Whenever possible, repurpose your blog posts in your inbound marketing efforts. This will also help you select topics to cover in your blog content creation. For example, sharing how a student's (or alumni's) experience with your school helped them reach their goals would not only be an engaging topic but would help prospective parents see how their children could also succeed at your school
What's the difference between a blog and a news article?
Educators tend to write like educators, right? But in the case of a blog, don't be afraid to let your hair down a bit. Here are some recommendations:
Unlike a research paper, thesis, or news article, be sure to let your writing reflect your personality a bit.
Share your opinions and perspective.
Let your tone be conversational and a bit casual. Think of it as a conversation between you and one other reader—someone who wants to hear what you think.
While your blog should never have spelling and grammar mistakes (you are an educator after all), feel free to use contractions, imagery, analogy, and metaphor.
Don't fear being witty or humorous when your topic warrants it.
Use stories liberally to make your blog memorable.
Share links to other articles, videos, or blog posts that further inform.
Articles tend to be data-driven, fact-based, informative, and cover timely topics, news, or events. An article on your school's news page is often time-based and may become outdated with the passage of time. Most blog posts are evergreen and less likely to become outdated in a month or even a year.
Blogs focus on being helpful and engaging and are often written in the first person where the writer shares his or her perspective, opinion, or experience. They're also presented in reverse chronological order (newest content appearing first). Blogs usually invite comments from readers, and a well-managed blog also responds to those comments.
So, if you need to write about a recent event or activity at your school (or one about to happen), that is news. When you want to discuss the importance of school traditions and how those impact students, make memories, and motivate students, then consider a blog post. Blog posts are great when you want to cover the "why behind the what" for schools. It is the stories that can be told through first-person perspectives that get us all on the same page and make us part of the team.
What to blog about?
If you've read this far, you are getting serious about creating a school blog and committing time to it. So, what will you blog about? That depends on your customers' needs, and you might have a variety of customers. So, pick your top priority and get started. Here are some common customer needs.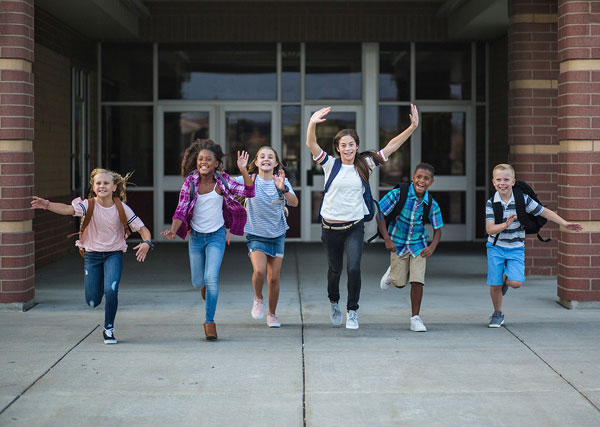 Marketing to increase enrollment: Some customers are looking for the best school for their child. In that case, you'd blog about what might attract, engage, and convert parents. What does your school do really well, how does it help students, and why does it work so well?
Building trust and engagement: Some customers want to be enthused about where their children attend school now and knowing they are getting the best education possible. In that case, you'll want to be sure to keep them informed about all the great things happening within the walls of your school and how and why those very specific strategies are in place.
Recruiting quality staff: Some of your customers will be new staff members, teachers, administrators, support staff, and volunteers. In that case, you'll want to find folks who fit in with your values and goals, so you'll share those in your posts to attract them.
Thought leadership: Sometimes you want to earn the respect and trust of your community members, establish your school as the school of choice, or help parents understand the rationale for your approach to education. A blog is a perfect forum to influence, encourage, and earn credibility. Creating in-depth content that offers valuable insights will demonstrate your expertise as you identify problems and provide solutions.
Parent engagement: There are myriad advantages to having parents who are engaged in their child's education. Your school's blog can help by providing parents with information about understanding their child's development (so they can facilitate learning at home), being included in decisions that affect their child (surveys, feedback, volunteering), and by helping them recognize and value the importance in their roles.
Student motivation: Blogging about topics that deliver a dose of motivation and encouragement to students (and their parents) provides many benefits. It helps students see that you understand what challenges they face, and it lets them identify with educators as folks who actually care about them. Check out blogs like LifeHack, Brian Tracy, Motivation Grid, or The Positivity Blog for some motivational ideas.
In summary…
The main takeaway is school leaders should blog (for all the reasons outlined above), and because it gives you the ideal channel to improve your school communications and answer the questions you get asked, and it helps you attract new students and engage the ones you have. So, take the plunge, blaze a trail, or whatever metaphor motivates you to get started. For a bit more motivation, check out some examples by other school administrators who blog at A Principal's Reflections, Michael Smith's Blog, and Connected Principals.
Bonnie Leedy, CEO