Each night, many families connect as they share a meal, often around a table. For years, our family has had a unique, daily tradition at dinner: we go around the table and each family member tells us about their day—what was sweet, what was sour, and something they did to be of service to someone else. With five children at the dinner table, this is the smoothest way we have found to connect with the whole family before everyone goes their own way in the evening.
Why is Connection Important for Schools?
According to Malcolm Gladwell in his book Outliers, people who live in connected communities are far healthier than those who are more isolated. Connection with others is vital for good physical and emotional health. As the issue of violence in our schools draws increasing attention to mental health, it seems prudent for every school to analyze its means of connecting with students and the school community.
Is your school campus welcoming? Does it offer students positive experiences via various forms of communication throughout their years at school? Is social-emotional learning a key part of your school curriculum?
At the heart of words like "community" and "communication," we see their core meaning through the modern French words Comme meaning as or like, and un meaning one. As we seek to build community and to communicate, a common quest is to become in some way, "as one." Community and communication are about unity, coming together, connecting. Thankfully, there are diverse ways to come together as one with students and their families. While there are too many to list here, as you may have guessed, blogs are one of them.
Why Do Schools Blog, Anyway?
Your school website and social media presence are public relations tools that help you build and nurture relationships with audiences that are already connected to you; a blog can do the same. Because of the nature of school blogs, however, blogs are also a powerful school marketing tool to increase your online visibility, drive traffic to your website, and bring in enrollment leads.
What's the Difference Between a School Website, Social Media, and a School Blog?
School Website News Page
Most likely, your school website includes a news page. This is a place for your school to include information in a factual timeline. The news page of your website is where you post press releases and make various announcements related to your school community, such as:
New policies and procedures
Recent awards and achievements
New staff hires
Upcoming events
News pages are about more general information. And, just like the 5 o'clock news, give you a brief breakdown of events and happenings in your district and at your schools.
Social Media Channels
Speaking of brief, your school's social media channels are not places you can go into a lot of detail. Facebook, Instagram, and especially Twitter are built for short updates. In fact, engagement increases exponentially when you use images with these channels. The wordier your social media posts are, the less attention your posts receive. We encourage schools to post short on social media and drive traffic to their websites for more details and further coverage.
Blogs
Blogs, on the other hand, give you a large, blank canvas to share. Blogs tend to focus on a variety of topics rather than serve as a factual timeline of events or other school information. Your school blog is where you can establish yourself as a thought-leader within the industry of education. Blogging opens the doors to share your thoughts, perceptions, or opinions related to a variety of topics involving education.
Schools share news, updates, recognition, and encouragement on their school website news page and social media. But when a teacher is recognized in the community for his/her efforts in the classroom, a blog is a perfect place to capture the moment in greater depth. When a group of students succeeds in tackling some challenging aspect of their education, large or small, a blog helps recognize and honor these valuable moments and victories at your school "dinner table." Taking time to write your impressions of certain experiences on campus using a school blog helps offer "a gathering place" for the school family to thoughtfully connect.
As an example for how to use all three platforms together: Let's say a new art teacher will begin teaching at the elementary school. First, you may announce the hiring on your website news page. Then, you will want to spotlight that new teacher on your social media. Finally, on your blog, you can discuss the new hire's qualifications, delve into the importance of art education and how it fits into your school vision and values, and talk about the art teacher's goals for the upcoming year.
School Blogs: A Powerful School Marketing Tool
Your school blog can connect the school with enrolled families yet reach further still today and in the future. Keep in mind that it should be relevant, interesting, and updated regularly. Do this and your blog will serve as a powerful marketing tool.
Much like schools use social media to reach current and potential new families, they also use blogs to market their school. According to TechnologyAdvice, a resource for businesses, "Marketing, in general, has moved from a profession to a lifestyle." TechnologyAdvice depicts in an infographic the evolution of marketing through the past few decades. Rather than the old interruptive approach, online marketing must offer something helpful and relevant. 
As mentioned previously, blogs must be updated frequently. Adding fresh, new content to your blog consistently increases your website's search engine visibility. In addition, you can add keywords to your blogs for better Search Engine Optimization (SEO). Your blog can also be a tool for inbound marketing to increase enrollment.
Your school's visibility on the Internet is directly linked with the ability to share worthwhile information pertinent to current and prospective students and families. This method is known as inbound marketing. Blogs draw people in, offering them information freely, hoping they might come back for more. A school's main reason for using inbound marketing is eventual enrollment. When an organization, such as your school, offers valuable, applicable information, interested parties pay attention. In the process, your school establishes itself as a legitimate source of information. A school blog is an excellent, cost-effective way to draw students and their families to your school website. It is not about advertising—it is about information sharing.
Effective Ways to Successfully Connect Using a School Blog: The 3 E's
School blogs ought to include content that accomplishes certain requirements to connect successfully with students and their families. The criteria could be called "the 3 E's."
School blogs should accomplish the following:
Educate: School blogs are full of good, educational information to foster understanding between students, their families, and the school. Informative content on your school blog helps establish your school as a trusted thought leader and resource. By offering informational downloads, your school blog can be a resource for gathering leads on potential new families.
Entertain: Students and their families are flooded with information regarding many aspects of life. If you want to draw them in, don't forget to find ways to appeal to them in fun, humorous ways. This is especially important for your current audience—the families of students already enrolled.
Engage: You will likely engage your school community by giving space for a variety of input from staff, students, and families. Content on the blog should include answers to families' pressing questions as well as solutions to problems. Remember: It would be a mistake to publish only your thoughts as the school administrator on your school blog. Share your platform with teachers and other administrators, invite influential parents or PTA members to guest-blog, and connect with your school family by inviting and encouraging feedback about various aspects of your school and activities.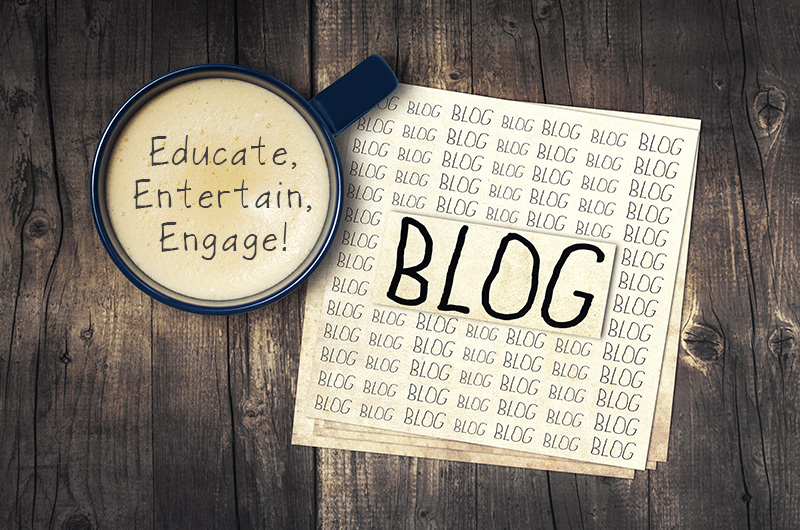 Examples of Effective School Bloggers
Thanks to individuality, effective school blogs will likely look different from one another. Let's look at two different school districts that are using blogs, examining ways they are using the 3 E's in their school marketing.
Ithaca City School District
Luvelle Brown serves as current superintendent for the Ithaca City School District in New York state (@luvelleb). Seeking to "Lead with Love" is a creed for the leadership within the district.
The district website homepage is welcoming and exciting with bold colors and beautiful photos. The website is engaging and easy to navigate. The homepage also includes news about current events in the school community along with easy access to a list of previous news posts on a separate page that includes photos and write ups. Providing this type and other information to current and prospective students and families offers a valuable peek into the school district.
Vancouver Public Schools
Steve Webb serves as the current superintendent for Vancouver Public Schools located in Vancouver, Washington (@SuptVPS). He uses technology to connect with the school community.
The blog is called "Webb eNews." It includes content that establishes the school as a trusted resource and thought leader. The blog and website are engaging and seek input from the school community. Each blog post includes an audio version. Every time people are interviewed, their responses are recorded as part of the audio version. The blog posts give space for other voices—other impressions of events and news. Members of the school community are continually encouraged to submit their own stories online.
VPS Employee Hall of Fame is another great example of engaging. The district constantly accepts nominations online from the community, including clear and easy instructions for how to nominate. They give recognition regularly. Also, the school website includes a news center, which includes pertinent and helpful information regarding the school, establishing Vancouver Public Schools as a trusted resource. The website includes a link to a local TV station that regularly includes information about Vancouver schools and the community. For example, when pressing, even tricky-to-understand topics exists, such as school funding, the school district helps explain it. Each post includes tags, making it quick and easy for viewers to find various posts related to common topics.
School Blog Best Practices
Frequency: You should be updating your school blog at least once a month. For better SEO, the more frequently you update, the better. Consider inviting others in your school community to write an occasional blog post. Also, it's important to consider using tools to help you stay organized and collaborate with others involved in your school's blog. If nothing else, you should be using an editorial calendar to help you plan and schedule your blogs, but you could also consider other collaboration tools like Trello.
Quality over Quantity: When it comes to your blog content, be sure to focus on the quality of your posts over the frequency. If you just don't have the time to create an informative, well-written post once a week, then do what you can and post once a month. If you know your schedule won't allow you to commit to even once a month, bring someone onboard who can help you look for stories and draft your blogs—this is something for which a school communications would be perfect.
Distribution: It's important to consider what your audience will tolerate when it comes to your school blog. Take into account your method for distribution. If you're sending out an email with each new blog post in addition to your other school communications, your audience may feel like you're going a little overboard. School Webmasters publishes a blog every week. However, we only send out our blog emails twice a month. We do this because we don't want to inundate our audience. If you are distributing your blog via social media, you should be posting with each new blog update.
Accessibility: Organized, welcoming school blogs and websites invite your school community to feel comfortable, to get informed, and to have an overall sense of welcome from your school. Have you ever visited a website with pages that feel overwhelming? Using tags on blogs allows your school community to easily find certain topics no matter when the information was shared. Your efforts to communicate, if done in an organized way, will continue to work for you long after you post.
Visual: As evidenced by the draw of social media with its variety of engaging visuals, remember to include images on your school blog. This gives you another great opportunity to use pictures of campus events and activities to demonstrate the core values you embrace. Include images of students working together on a project, in a community service project, etc.
How Do You Connect With Your School Family?
As a school administrator, you likely view your school community as one big, (hopefully) happy family. How are you connecting with those connected to your school? What connection-fostering traditions are already in place on your campus? Do you produce a regular newsletter? Do students help make announcements over the PA system? Do you have spirit weeks and encourage students to participate by participating yourself? These, and more, are good ways to connect with your school community.
Whether yours is a small or large school, it is critical to build connections between you and your school community by various means, including blogging and social media. Much like a family at a dinner table, your efforts to connect benefit you and your current school community as well as prospective students and families. When your community feels connected to your school, results include shared vision, motivation, successes, and raised awareness of the challenges you're seeking to overcome. In short, it results in a better connected, supportive community. Could there be anything better?
Emily Boyle, School Content Specialist