Every few years, schools decide they need to update or redesign their website. Sometimes it is because there has been a change in administration and they want to put their own "stamp" on things. Sometimes it is because someone thinks they should update their school's brand image. But the best reason is that you want to improve the experience your website visitors have when they visit your school's online presence. If you don't make that your primary goal then the effort will be a waste of time and money.
Your school website is your most important communications and marketing tool. It is also one of the most affordable ones. As far as employees go, it works 24/7 for far less than minimum wage and can provide outstanding and consistent customer service. It can make a positive and memorable first impression and save your staff time while they stay focused on their primary roles (educating students). But, the key here is that it can do all of this only if your website design and content is done right.
Doing the school website redesign right!
So, let's talk about what an effective website (or redesign) should have.
#1 Navigation
This is often a bit of an afterthought and is sometimes determined by the software you're using to create your website. Some CMS platforms have a defined structure that is impossible or difficult to change. Sometimes this is a good thing, as it keeps your navigation consistent, but often you end up becoming a bit of a Lemming and just mimic some developer's idea of what is intuitive.
Intuitive navigation means you need to use a bit of common sense and some analysis about what your site visitors look for most often. These important and popular bits of information should be easy to find and in a logical and consistent location.
For example, if a prospective parent lands on your school's homepage, can they find the enrollment information with one or two clicks of the mouse? If a current parent lands there, can they quickly get to the district-wide calendar for those early-release days or school breaks so they can plan their lives around their child's schedule?
Do you know what pages site viewers visit most frequently? If you don't, check your website analytics first before deciding on the navigational structure and content, and factor that into your plans. If you haven't set up Google Analytics for your site(s), be sure to do that ASAP to start gathering data.
#2 Current, informative content
Keep in mind that anyone who visits your school website is there to get accurate, up-to-date information. Out of date and boring information is not only irritating, but it reflects poorly on your whole school. This is absolutely critical! Parents will become frustrated when they can't find the information they need (from the device of their choice).
Remember, like you, they are all drowning in an ocean of responsibilities for themselves and their kids. Your website is, or should be, their lifeline to quick, accurate help. If your school website is more of an anchor than a life preserver, a good website redesign can make you a hero. What is goodwill and parental support worth to your school? You'll find out next time you need budget approval, a tax override, or a bond election!

#3 Make it accessible
If you haven't already complied with the website accessibility laws, use this opportunity to take care of that with your redesign. Be familiar with the WCAG 2.1 requirements, and audit your own website before the Office of Civil Rights does it for you. Be sure all of your attached documents are also remediated for accessibility (yes, all those posted governing board minutes and agendas, flyers, notices, videos, and more). Anyone who adds content to or updates your website must be trained on accessibility, and they must follow the guidelines. It means your website software platform must also be capable of assuring continued accessibility in navigation, layout, and responsiveness. This doesn't mean an overlay work-around that forces disabled users to use a separate link to view your site either. Do it right because it is the right thing to do, and make and keep your school website ADA compliant.
Download your FREE website redesign checklists
#4 Meet your audience needs
These first three tips are designed to help you meet your audience's needs. So, now let's take a look at specific or unique audience needs.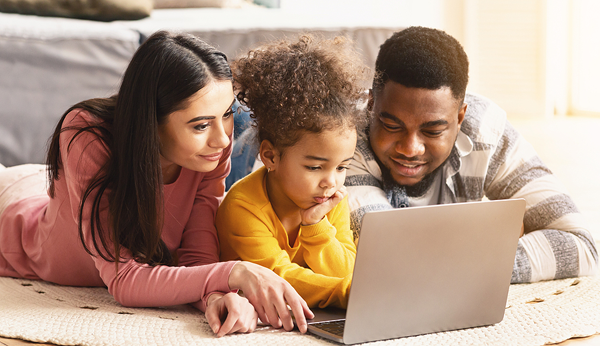 Current parents: It is SO important to keep your existing parents engaged and supportive. That means your website must be convenient (responsive and mobile-friendly), informative (all frequently used information handy and current), and have lots of news highlighting all the great things happening at school and showing how their children are benefiting from it.
Prospective parents: The goal of marketing for a school website is to help prospective parents envision their child fitting in and reaching their potential at your school. Stories with examples of how this happens at your school are the most effective way to attract new students. Videos are even more effective.
Current students: For your current students, it is going to be all about the frequently visited information (lunch menus, calendars, sports schedules) and lots of great news stories. When they can see their friends, and themselves, highlighted in stories, activities, and successes, your website will be a VERY popular attraction (along with your social media sites that drive them to your website articles and photos).
Prospective students: Much like the strategy for prospective parents, the stories you tell on your school website will enthuse prospective students as well. You want them to feel excited about being a part of the new school and able to see themselves succeeding there.
Prospective staff: Like prospective parents, you need to have a website that helps prospective staff envision themselves as a part of your team. Share your values. Provide stories that represent the areas of which you are most proud, and that includes highlighting staff members who represent the best you have to offer. Encourage quality prospective staff to aspire to be one of these outstanding individuals.
Current staff: Make it a tradition to share the kudos about your staff on the public-facing website. Stories about the successes within your school, and how your staff makes those successes possible, will improve morale and speak volumes about the standards of achievement for which your staff will strive.
Community: For this audience, think about taxpayers (success stories show how their tax money is being put to good use and producing outstanding citizens), volunteers (you can always use some free help, so let potential volunteers know how much they can help and how they benefit when they make a difference in a student's life), preschools (same needs as prospective students and parents), real estate agents (give them a landing page with all the pertinent stats they can use when selling prospects on the benefits of purchasing homes in your area—give them some bragging rights to talk about), churches (incorporate any information you have on character or value-driven instruction or service-oriented projects included in your curriculum).
Alumni: Make sure some of your testimonials include comments from successful alumni. This can be a very effective marketing tool, especially when alumni can share stories about how influential and caring teachers helped them reach their own potential.
Media: A good school website is a wonderful resource for the media to use. News stories that highlight your successes or articles explaining current issues your school is facing can be the go-to resource for your local education beat reporters. The only additional step is to let them know the information is there, which is as simple as sending your local reporters links to newsworthy articles. Then, watch the local media give you the type of coverage you hope to have. Just make an effort to make their job easier, and when you do, you'll get more positive coverage.
What should it cost?
Depending on your school and your budget, the cost will vary wildly. Some school website providers recommend budgeting 1–2 times annual student tuition for the website redesign (for public schools, this is the annual per-student funding amount). You can easily justify the expense by realizing that just one or two new students offsets the initial expense. And over the life of the student (12 years), it becomes a negligible expense, compared to the long-term revenue. An effective website can certainly increase enrollment decisions—if managed right.
But what if you could do it for 1/2 of the cost? Is that worth checking out? We can't speak for all other school website providers, of course, but we know what we can offer, and considering what you get, there is simply no value comparison. So, get a quote and make the comparison. Or, if you want, we can even give you a list of other school vendors to check out. There are lots of options out there, depending on your needs.
School Webmasters' specific claim to fame is that we don't just provide you with software and turn the hard work over to your staff; we do the behind the scenes grunt work day in and day out, including all those daily updates (keeping your website accessible, current, and informative). We even provide updates to many of our competitors' sites. But, we also do all the copywriting and make content recommendations for an intuitive and effective website to address all the tips we've given above. So, if you're looking for a redesign that will take your school website to the next level, we hope you'll contact School Webmasters and let us show you how we can make you shine.
Bonnie Leedy, CEO, School Webmasters, LLC.