Whether you're managing school marketing for a public or private school, chances are you would like to grow your enrollment. After all, more students mean more opportunities to make a positive impact in the community. And, let's not forget, higher enrollment numbers give your school more funding, allowing you to provide more services and resources to all of your students.
But do you feel like you've done all you can do to try to market to new families? You're using school social media to build engagement, hosting events at your school to build community, networking in parenting groups and neighborhood events, and engaging the media in successes happening at your school.
While these are great ways to market your school and, as a result, grow your school, don't underestimate the power of your current and former families to assist your efforts too. Studies show that reviews and referrals are far more influential than any other form of marketing. Testimonials are a respected and valuable resource that schools don't often incorporate into their marketing efforts—and they should.
Using testimonials in your school marketing efforts is based on the concept of social proof (or social influence). In technical terms, social proof is the psychological and social phenomenon where people assume the actions of others in an attempt to reflect correct behavior in a given situation.
This principle applies to how parents make decisions about where to send their children to school. Parents like to "be in the know," or at least look like they know what's going on. And parents talk to each other about the things they have in common—usually, that conversation revolves around their children. So it naturally follows that parents talk about schools, all the time. Whether it is on your school website or comes by way of word-of-mouth, a good testimonial is social proof—a positive confirmation that your goods or services are worth an investment.
More than a monetary investment, your school is an investment of time and trust for the families you serve. So what better way to show other parents what a great school you have than to let them hear it from other parents? There is always more credibility hearing a testimonial from someone who has nothing to gain, than from a school employee with a vested interest.
Download our FREE eBook: How Successful Schools Market Themselves.
How to Use Testimonials
The best place to use testimonials is on your school website. I love this recently launched School Webmasters website for Student Choice High School (SCHS) in Tempe, Arizona. SCHS offers a unique educational experience, tailoring classes to fit the needs of students who struggle to learn in the traditional setting. Students at SCHS receive individualized instruction and personalized attention and class sizes are kept small so students can focus, pace themselves, and achieve success.
My favorite feature of the website is the testimonials scattered throughout the pages.
Scroll down a little on their homepage and you're greeted with three quotes: one from a parent, and two from community partners, all attesting to the caliber of the programs and staff at Student Choice High Schools.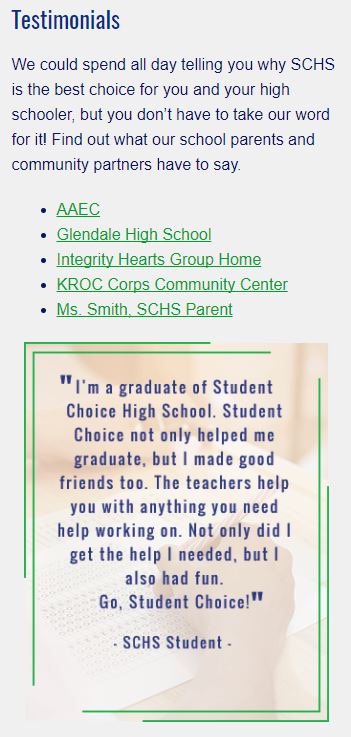 In fact, testimonials are used throughout the pages in the sidebars.
Navigate to the "Choose SCHS" page and the sidebar (see the image on the right) proudly displays several links to letters of recommendation for the school provided by parents and community partners. Further down in the sidebar is a student testimonial as well.
A simple rule to follow when placing a testimonial on your school website is to keep it brief—one or two lines is ideal if used graphically—and longer testimonials should be placed on a page of their own.
Make It Easy
Your school supporters want your school to succeed and will be happy to contribute to the school's success by showing their support. So, don't be afraid to ask for testimonials!
Ask teachers to help gather positive comments (maybe forms are available during teacher conferences).

Ask the office to have forms available for parents to complete—with a checkbox where they can check and sign an agreement to let you use their comments on the website or in a brochure.

Add a feedback form right on the website to collect parent, community member, or alumni testimonials. Let them also upload a headshot to place next to their testimonial. This adds legitimacy and a personal touch.

When you have an event or program, get a testimonial from parents whose children were involved, and include that with the article.

Ask for them from alumni. There is nothing more powerful than hearing from those who once attended your school and went on to accomplish their goals, crediting a teacher or school with their start on the right path.

Get the PTA or PTO to collect testimonials–and use them on your website. You can turn these into graphic elements and use them as part of the overall theme of the design. We do this for our clients and it adds a professional touch to the website.
Testimonials are a great way to prove that your school climate is nurturing and effective. They provide first-account endorsements for your teachers, your curriculum, and your leadership abilities. And even better: they're free.
Get started using testimonials today. Oh, and encourage parents to also post their positive comments on parent evaluation sites like Great Schools as well. Invite those who provide positive testimonials to share their comments by giving them links directly to sites that review your area schools. New and prospective parents often use review sites to decide which school best suits their child's needs. Make sure your school shows up and shines!
Katie Brooks, School Public Relations Manager