In our digital age, a school's website is often the first point of contact for prospective students, parents, and staff. A well-designed website reflects the school's unique identity and values and is a powerful tool for communication and administrative efficiency.
How can your educational institution make the most of its online presence? This comprehensive guide on website design will walk you through the essential aspects of school website design, from the importance of first impressions and key design elements to tips and best practices for building and maintaining a successful website.
Short Summary
Well-designed school websites are essential to create a positive school community & communicate mission, programs, and successes.
Effective design should feature responsive design, intuitive navigation, high-quality visuals, and accessibility for all users.
Best practices include selecting the right platform, optimizing content with keywords & ongoing maintenance of website security.
The Importance of School Website Design
School website design plays a critical role in fostering a sense of pride in the school community and effectively communicating the school's mission, values, programs, and successes to draw in new enrollments.
With two primary functions—providing an online database for current students, parents, and faculty, and presenting the school in its best light to attract prospective students and parents—a well-designed website can significantly enhance admissions and establish credibility.
Ensuring the website is easy to navigate, visually appealing, and up-to-date with the latest information is important. This will help attract and retain website visitors. It should also be optimized for mobile devices, as more and more people are accessing the web from their phones and tablets. Additionally, the website should be up-to-date with informative content.
First Impressions Matter
A well-crafted school website design creates a favorable initial impression, highlighting the school's values, programs, and accomplishments, ultimately drawing in prospective enrollments. High-quality images and videos, and a clear and intuitive navigation menu, can effectively showcase the school's atmosphere, achievements, and offerings.
For example, the website of STAR Academy Charter is a prime example of a professional school with a well-designed website that effectively communicates its values, programs, and accomplishments to prospective students and other stakeholders.
Communication Hub
School websites are the central communication hub that keeps parents, students, and staff informed about important announcements, events, and schedules. Regular updates, calendars, and notifications ensure that the school community remains informed despite their busy schedules.
When your website is combined with a mass messaging platform and an app, you've got a winning combination that will improve your communication and school brand and build trust and confidence in what you do as a leader as well.
Administrative Efficiency
Effective school websites can streamline administrative tasks, such as exam facilitation, enrollment, registration, and tuition payment. A well-designed website should effectively communicate the school's values, programs, and accomplishments while providing a platform for disseminating essential information such as announcements, events, and schedules to parents, students, and staff.
The best school websites achieve all these goals, making them invaluable tools for educational institutions.
A well-crafted school web design can improve their overall efficiency and serve their communities better.
Key Elements of Effective School Websites
Successful school websites should incorporate several essential components, such as responsive design, intuitive navigation, high-quality visuals, and accessibility for all users. These elements work together to create a seamless and enjoyable user experience.
Ensuring that your school website stands out among competitors and effectively communicates its unique identity is vital to success.
Download Our FREE eBook: How to Create an Exceptional School Website
Responsive Design
Responsive design is an approach to website design that enables a school website to be optimized for various screen sizes and devices, guaranteeing a seamless user experience. It is particularly important for school websites, as prospective students and parents are likely to access the site using verious devices, such as desktops, tablets, and smartphones.
By employing skilled web designers, schools can ensure their school website design caters to the needs of their diverse audience.
By ensuring that your school's website is responsive, you can provide a consistent and enjoyable experience for all users, regardless of their device.
Easy Navigation
Easy navigation is crucial for school websites, as it helps users quickly locate the information they need. A clear and intuitive navigation menu provides a clear structure of the site's sections and the type of information they contain, enabling users to easily find what they are looking for.
For example, Queen Creek Unified Schools utilizes an expanded drop-down menu with various sections to organize their page content, ensuring users can quickly find the information they need.

High-Quality Visuals
High-quality visuals, such as images and videos, play an essential role in enhancing the user experience and showcasing the school's unique atmosphere and achievements.
Incorporating engaging visuals that emphasize the school's strengths and offerings will create a more captivating user experience that motivates users to explore further.
Additionally, utilizing inclusive visuals can help ensure all users feel welcome and included in your school website design, contributing to a positive user experience.
Accessibility
Accessibility is an essential aspect of school website design, as it ensures that the website is usable by all visitors, including those with disabilities or using assistive technologies.
Essential accessibility features allow users to adjust settings such as font size, link highlighting, and color contrast to improve readability for users with visual impairments. Having the ability to tab through the navigation is essential to provide those with disabilities an easy way to navigate your site.
By prioritizing accessibility, your school can create an inclusive online environment that meets the needs of all users.
Showcasing Your School's Unique Identity
To effectively showcase your school's unique identity, it is essential to tell your school's story, create a strong brand and logo, and highlight successes and achievements.
By focusing on these aspects, you can effectively convey your school's values, programs, and accomplishments, drawing in prospective students and parents and fostering a sense of pride within your school community.
Developing a strong school identity is an important part of creating a successful school. And focusing on creating a strong brand and logo and telling and highlighting your school's story helps create a sense of community and pride among students, parents, and faculty.
Telling Your School's Story
Telling your school's story involves crafting a compelling About Us page and using professional language and imagery to convey your school's values and atmosphere.
By highlighting accomplishments and specialized offerings, incorporating visuals, and utilizing storytelling approaches, you can effectively communicate your school's narrative in a way that resonates with your target audience.
This helps create a strong online presence and encourages users to explore your website further and learn more about your school. It is important to remember that the About Us page should be engaging and informative and updated regularly to ensure that it remains relevant and engaging.
Branding and Logo Design
Branding and logo design are also integral to reflecting your school's identity and values, both as part of your website design as well as in other marketing materials. By choosing an appropriate color combination, keeping the design simple yet distinct, and considering the long-term use of the logo, you can create a strong brand identity that resonates with your intended audience.
Additionally, researching competitors' logos and creating a brand personality can further strengthen your school's unique identity, help you stand out from the competition, and create a lasting impression on potential students and other stakeholders.
Highlighting Successes
Highlighting successes, such as awards, notable alums, and student achievements, is essential for showcasing your school's strengths and attracting new enrollments. Creating a dedicated section on your website for student achievements and awards, successful alums, and positive feedback from parents and teachers can effectively display your school's successes and create a sense of pride within your community.
This section should be regularly updated with new successes, awards, and upcoming events and should be prominently featured on your website. Doing so will help to create a positive image of your school and encourage prospective students to apply. A great example of a school that does this well is Seneca Highlands Career and Technical Center.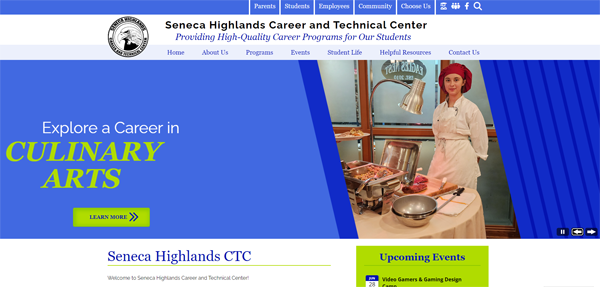 Building Your School Website: Tips & Best Practices
Building your school website involves several steps, such as selecting a website platform, optimizing content, and ensuring ongoing maintenance and updates.
By following these tips and best practices, you can create a website design that effectively communicates your school's unique identity and serves as a valuable resource for your school community.
Selecting a Website Platform
When selecting a website design platform, it is important to consider the design, functionality, and user-friendliness it offers. Content management systems (CMS) can provide easy updates by staff. At the same time, a fully managed platform (available to School Webmasters clients and other platforms) can also help schools achieve optimum school websites.
For example, the STAR Academy Charter School website, powered by School Webmasters, is a user-friendly solution that allows easy editing and updating of the website content. However, they've chosen to use School Webmasters' professional customer support team to keep their site compliant, current, and engaging.
Choose whichever level of support your school needs. The best school websites should meet the needs of their audience.
Content Optimization
Optimizing content on your school website involves creating engaging, informative, and well-organized content that is easy to read and understand. By incorporating location-specific keywords, developing separate pages for programs, prioritizing accessibility, and making courses easy to locate, you can effectively optimize your website's content to attract and engage users.
Defining your target audience and optimizing title and description tags can further enhance your website's visibility and search engine rankings.
Ongoing Maintenance
Ongoing maintenance ensures that your school website remains up-to-date, secure, and functioning well. Regularly reviewing and refreshing content, checking for broken links, backing up the website, and monitoring performance metrics can help keep your school website running smoothly and effectively.
By dedicating time and resources to maintaining your school website, you can ensure that it continues serving your enrolled students and the school community, while attracting new enrollments.
Summary
In conclusion, a well-designed school website is essential for effectively showcasing your school's unique identity, fostering a sense of pride in your school community, and attracting new enrollments. By focusing on the key elements of mobile-friendly design, easy navigation, high-quality visuals, and accessibility, as well as telling your school's story and highlighting successes, you can create a website that truly represents your educational institution.
Remember also to consider tips and best practices for building and maintaining your website, ensuring it remains a valuable resource for your school community.
Frequently Asked Questions
How can I ensure that my school website is user-friendly?
Start with a website design that is mobile-friendly, also known as responsive. This will ensure that your website users will have access to your website regardless of the device they use. Also, make sure your visual elements are optimized for fast load times. You can have both a visually stunning website and one that is user-friendly with a bit of planning and by selecting an experienced school website developer.
Can I make a website for a school project?
It is certainly possible but is probably better suited for a classroom or grade-level website. With the abundance of available online platforms and tutorials, making a classroom website as a school project can be quite simple and manageable. As long as you set aside enough time to research and create the content, you'll be able to develop a unique and informative website to present your work.
However, a school website design meant to serve the needs of an entire school, parents, students, and community will need to be professional, marketing savvy, and often requires more experience than a school project would allow.
How do I develop a website for my school?
Creating a website for your school is easy when you follow these steps. Develop criteria you want to use to select a web developer to design your school website. We've provided a few suggestions for vendor selection.
Next, write down all the essentials you'd like to see on a school website that will meet your target audience's needs (this will likely be parents of the students you hope to attract). What do they need from your website? How simple can you make it for them to achieve that?
Next, determine what school logo or mascot you will use. If yours needs to be updated or is of low quality, spend the money to design a new one. Determine your basic colors (often based on your logo colors) and stick with those colors throughout your website so that your website is visually appealing and professional.
Finally, determine what content needs to be on the school website. WARNING: don't just move everything over from your old site to your new site. That's like putting lipstick on a pig. It's still a pig. So use this opportunity to improve and refine your content. Your content should be engaging and inviting.
If this sounds a bit overwhelming, select a vendor that can help you do more than just design the pages but can write content and advise on intuitive navigation.
What should school websites include?
A school website should provide students and parents with easy access to critical information, such as athletic schedules, registration details, and a directory of staff members. It should also be kept up-to-date with testing schedules and other relevant resources.
By keeping a well-organized website, schools can ensure the community remains informed and connected.
What is considered an educational website?
An educational website is one of the most powerful and valuable tools in modern education—a platform to store, organize, and share educational materials and resources such as lectures, videos, articles, textbooks, or multimedia presentations.
It helps parents encourage students to keep up with their studies and acquire new knowledge. It also engages community members, improves school spirit, and builds a strong school brand.
Should school websites include parent testimonials?
Absolutely! Whether you are a public school, a charter school, or an online school, having parent testimonials, student testimonials, and alumni testimonials will go a long way toward building a good impression and earning trust. A good example of a school with parent testimonials right on the home page is Anne Frank Inspire Academy.
Get help with School Webmasters and schedule your demo today!