One of my family's favorite magnets ever to grace our refrigerator was a large cartoon pickle with a conversation bubble saying, "You're a big, flippin' dill!" I love a good pun.
Sure, it might be easy to overlook and underestimate the power of this simple magnet and its message. However, often, when something great happens for someone in the family, we remind them of this quote. The magnet's influence and humorous message continue to foster positive vibes in our home.
Your school website can and ought to be like this amazing magnet—a big deal.
Yes, your school website occupies a small space in the grand universe of the internet, but it still matters. Sharing practical advice on our blog about how schools can improve their communication with their school community is our passion. School websites can communicate and reach out to your school community in various ways.The very word communication evokes images of community and loyalty, and we think all of that is really a big deal for your school.
Download Our FREE eBook: How to Create an Exceptional School Website
In this blog, we will look at how school websites help you reach your school communication goals.
4 Communication Goals Your School Website Can Help You Reach
#1: Improve Customer Service
What school isn't trying to improve relationships with parents? One of the best ways to use your school website to reach your communication goals is to provide outstanding customer service. Your school website has amazing potential to serve your community in big ways. As you consider site visitors such as staff, students, and parents, consider why they are coming to your website. Are they looking for something in particular? Is it easy to find it? A professional, welcoming school website will work wonders for your school. Your school website can set a standard that your school aims to answer questions, resolve concerns, inform the school community, and that, man! Your school is a big deal!
Here are more tips on improving customer service and rolling out the red carpet at your school!
#2: Provide Information
Even for schools that don't emphasize communication, providing information is still a priority! Your school website should act as a portal for accessing various and vital information. Have you ever visited a website that seems neglected? Providing crucial information on your school website allows your school community to be informed. Parents will appreciate the ease of access to information. You will earn their trust. Schools who use their websites to share current and needed information not only build trust, they save time and effort.
Often if a school website has been neglected, it's because someone at the school doesn't understand why they need a website in the first place. Read more to understand the job your school website fills.
#3: Save Your Staff Time & Your School Money
Have you ever thought of saving your staff time as being one of your communication goals? It should be! Teachers are busy, and anything you can do to save them time is valuable. And yes, your school website saves your staff time and your school money. As you share information regularly and consistently on your school website, your community will quickly learn where to go when they have a question. An effective school website saves someone in your school community from making a phone call or writing an email to your staff and faculty. That means a decreased amount of individual questions. You can't eliminate all phone calls; however, your communication goals should be aimed at time efficacy as well as hospitality.
Read more about how your school can do more to reach your school communication goals with half the budget!
#4: Improve Your School Public Relations
Your school website builds excellent public relations. Attractive school websites get noticed. They are pleasant to visit. Your school community won't dread going there to "dig" through all the fluff to get to what they need. School websites should include board agendas, links to school report cards, important job announcements, openings, vendor information, etc.
Read more about how a school website can help a struggling school.
So what does your website need to help you meet these school communication goals?
12 Ways To Use Your School Website To Its Full Potential!
News pages

News pages help communicate the latest events to keep your school community informed and aware without crowding your website Home page. School websites with news pages should typically feature a "What's New" section on the Home page, usually in a sidebar. A News page is a great way to share current events and successes and visual elements like galleries, videos, and slideshows. At School Webmasters, we design news pages for our customers to include a format for easily sending out newsletters or messages electronically to your uploaded email lists, helping your community stay involved and informed. 


Interactive calendars

School websites with interactive calendars help busy, on-the-go school communities. Interactive calendars help your school keep parents and the community informed so they never miss an event. School Webmasters' school websites are fortunate to have feature-rich interactive calendars, thanks to our partnership with Trumba. Website visitors can sign up for email reminders for upcoming events. The school can send out online registrations or invitations. We also create customized calendars specific to sports, band/orchestra, staff development, and other areas to help simplify calendars based on areas of interest. 


Photo galleries

Pictures are a powerful and effective way to communicate. School websites with photo galleries displaying various events, activities, clubs, sports, classes, and more build your school public relations as well as your school brand by widely sharing all the good going on at your school. School websites can include galleries where visitors can click on the thumbnails to view larger images. Photos can also be displayed in a slideshow format to highlight memorable events and moments at your school. (Reminder: Keep ADA compliance in mind when using slideshows!) This aspect of a school website really enhances your school's personality as well as draws interest from your community. 

Quick links

Your staff, students, and parents will thank you for offering convenient, quick access links to frequently-used content. As you offer such resources, communicate with your school community about the availability of such links. Just imagine the simplicity of explanation if Ms. Smith calls looking for the lunch menu and you can say, "On the Home page, find the parent quick links. Four links down is the lunch menu." They will appreciate you as your school website becomes a hub of activity. 


Online polls and forms
Online polls are effective and affordable. They allow you to gather data from site visitors using dropdowns, content fields, and radio buttons to populate convenient forms such as questionnaires, permission slips, polls, surveys, and applications. School Webmasters' websites also include an option that lets you post your current school forms online so parents and students can fill them out and send them electronically to the school. 


Staff directories and profiles

Effective school websites include your school staff's information, including emails, contact preferences, phone extensions, and photos. Personalized profiles help your school community know more about your fabulous faculty and staff. 


Documents and links

All of the school documents you use readily should be available from the school website. PDF Documents linked to your website such as lunch menus, student handbooks, athletic schedules, etc. should all have a place. And don't forget, as these become outdated and the information changes, be sure to remove or edit them. Some documents will remain the same year after year but others will not. The quality control team at School Webmasters helps make sure the links and documents on your website are current—just one of the many benefits of our website management service! Sharing important links and documents on your school website saves staff and site visitors time and provides a fantastic, go-to, convenient resource online. 


Embedded video

Including videos of various activities or messages are popular ways of communicating to your school community. At School Webmasters, we use Vimeo as our video web host. Videos are embedded right on your website, and Vimeo provides reliable streaming, responsive design, advanced privacy settings, and a targeted audience. 


School blog

Telling your school's story on a blog connected to your school website is a powerful way to more effectively direct your school's reputation and what people are saying about your school. School Webmasters is a proponent of school storytelling. We believe in the power of stories and their ability to bring our communities together. Are there specific topics that directly concern your community? Address them in a school blog. With a blog created within your website, you can easily access and manage posts. Blogs are not only a great communication tool, but they can be a great inbound marketing tool. 


Emergency pages

When disaster strikes and you need urgent website notifications, you school website should provide necessary communication to those who need it via an emergency page. Whether the emergency involves weather closures, lockdowns or other urgent matters, it's vital to have a vehicle that will let you communicate. Don't leave your school community in the dark. 


Secure log-in pages

Often, school websites need staff-only/private areas that aren't accessible to the public. These pages require secure log-in access to a certain group of users. School Webmasters' websites have three levels of secure usage: Users, Super Users, and Admin Management.  


Social media feed

Your social media pages and your school website should work hand-in-hand to foster a foundational culture of community. Twitter and Facebook feeds as well as links to other social pages can be on your website's Home page to increase engagement with your school's followers.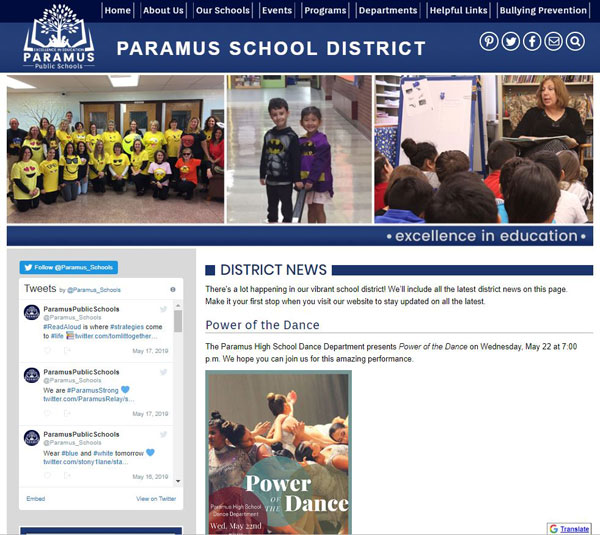 Is your school and school website a big, flippin' deal? We hope so. And if not, start using some of these features, and make it a big deal! If your school website needs some freshening up, contact us! What are your school's communication goals? Every school has its challenges as well as its strengths, but each is in the business of giving our youth the gift of education. No matter how you slice it, that's always a big deal.