For thousands of years, sailors and travelers have relied on lighthouses to lead them to safety. For them, the lighthouse is a beacon of hope. If the light were to fail, creating a cloak of darkness, the leaders, the navigators, the doers, and the encouragers would step forth to give direction and hope to those in their care.
Currently, we may experience some "cloak of darkness" moments. As a business owner, a school leader, a teacher, and a part of your community, you have an obligation to use your talents and experiences to be the navigational aid to warn of and navigate through dangerous areas. You can be that beacon. And you can use your social media platforms to do it.
So, how will you respond to a crisis? How will you answer criticism or negative comments? How will you navigate the dangerous waters that threaten your community? Are you prepared and trained properly?
As with any good captain, you need a good map and a strategy. It is important to establish your "vision" for your school and what it looks like in your community. Then, you'll need to rely on the expertise of your crew members for help. If your school has a PR rep or a dedicated marketing specialist who represents your school, you'll want to get their feedback about what has worked in the past and what has not.
With your plan in place, it is time to use social media to execute it. With no time to waste, you'll post relevant material in a timely manner. If your school has a fire drill, let the parents know. If you're having a student assembly, a special celebration, or a guest visitor, let the parents know. The more you use your social media channel to be a positive, trustworthy place for information and encouragement, the more trust you instill in your community and patrons. Fremont USD is an excellent example of social media done right! They use their social channels to inspire, inform, and provide relevant content. https://www.facebook.com/FremontCountySchoolDistrict2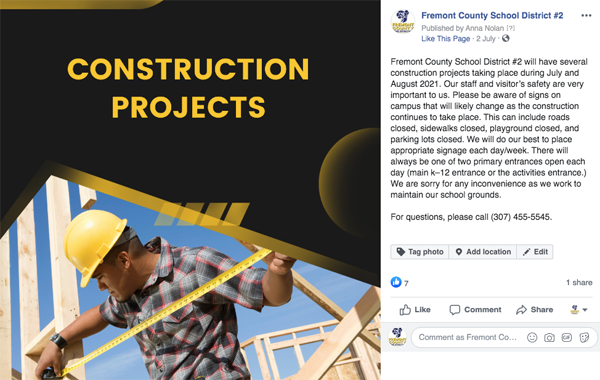 A saying in the world of social media says, "Don't post it and forget it." You must engage with your content! Respond to comments on your page, address concerns, and, more importantly, have a place for patrons in your community to leave a review. A reputable site such as Google my Business, where parents can find accurate information and facts about your school, is a great source to help you manage your reputation.
Download our FREE eBook
#Social4Schools: A how-to guide for creating and managing an effective social media presence for your school
Once you have established your social channels, what are some of the tools and equipment you may need to stay firm and steadfast with your light ever shining?
A good social media auto-posting service will make posting relevant, timely content a more streamlined process. Hootsuite, Buffer, or Planoly are good options to consider.
A strong reputation management and review platform (e.g., Google my Business or Great Schools) are excellent options to consider. It is helpful to have a dedicated rep from your school to manage these platforms. If you need help, let us know! We would love to send you a customized social media marketing package fit for your school.
If you create the graphics to post for your school, we consider Canva an excellent option to help you create your own graphics, saving you time and money.
Stay current on social media tips and trends. Hootsuite, The social media examiner, and Facebook Blueprint are excellent ways to do this. If you are just starting out, take our course, Social4Schools, to become a social media pro for your school in no time!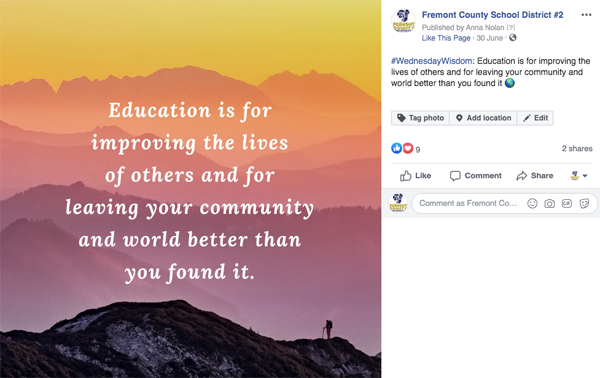 It is safe to say that even with the brightest light in the harbor, not everyone will see the light, and some may run aground. It is important to ask, "What can we do differently next time?" Simply watch your insights on your social media platforms. Analyze and measure what is working for your social media pages and what content isn't working. Don't be afraid to try something new! Make videos, post more relevant content, and ask questions. Be the lighthouse everyone can find.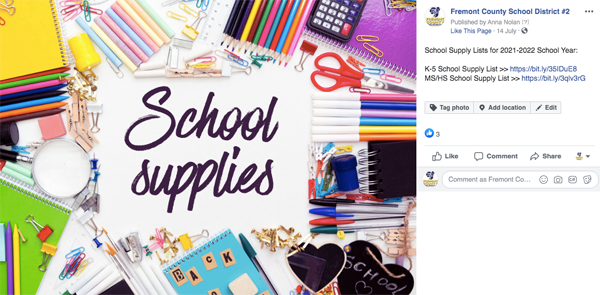 Every school is a ship at sea. Some lack a captain, and some have too many captains. Some go to the lure of the siren's call. Many have only had a map of the treasure chest but lack the map to the shore.
Some may assume they know the way to the shore but might get lost in times of crisis. To navigate our current social media waters, you must understand the purpose behind it and have the expertise among your captains and crew to navigate through it. If you need help with these tasks or simply with firming up the foundation of your social "lighthouse," we are here to help! Please give us a call to discuss the options.