When it comes to school websites, many schools don't recognize their most valuable players and often don't even put them in the game. Typically, all the focus is on the main office or district website. If you aren't using your school-level websites as strategic communications tools, it is like only playing your second string all season.
What you may be overlooking is the important role of the website for that elementary school, middle school, or high school. While most school districts have websites for these individual schools, far too often their websites are at best ignored and at worst a flat out embarrassment.
Not a winning strategy. Here's why.
Download our FREE eBook: How to Create an Exceptional School Website
You must meet your parents' needs
Once parents enroll a child at your school, their needs change immediately. They are no longer interested in a marketing pitch about why they should enroll their child at your school. They are no longer interested in your tuition costs or school boundaries. Now they want to know the specifics that will affect their child's daily life (and in turn theirs). They need information like the following:
What specific activities and events are coming up at their child's school, and what level of involvement do you expect of them?
What is the process for communicating with the school, teacher, coach, or counselor at their child's school?
How can they stay in the loop and be supportive of their child's education?
How can they keep their child engaged so he or she will succeed at school?
What are the school's stories, successes, and challenges that might relate to their own child's needs?
What are the staff and administration at the school doing to help their child reach his or her potential?
Does the staff care about their child, and what are the stories that provide examples of this to them?
Different strokes for different folks
As you can tell from the list above, it would be very difficult to share interesting and engaging information to all parents without knowing their specific needs. Those needs are influenced by the ages and grade levels of their children. What interests the kindergarten parent is usually not of interest to the parent of a student in his second year of high school. The tone, language, and topics need to reflect the needs of your audience, and with such a wide age range, that varies greatly. The following are a few suggestions based on typical age groups:
Parents of elementary students
They like individual progress about their child. How is my child getting along with others? How is he/she progressing in school? What do you expect my child to learn this year? These questions can't be answered on your school's website, but how the parent can find this kind of student-specific information should be.
They want to know what the homework and grading policies for their child's class will be.
They want to know what is scheduled in their child's life, such as testing dates, early release days (and why the early release), what you're doing to ensure their child's safety, what the disciplinary consequences are, changes in the daily schedule, etc.
They like to know what is available to their child, including extra-curricular events, clubs, special interest groups, tutoring, sports, social events, meetings, etc.
They NEED to know how what you are doing in school is going to help their child succeed—as a well-adjusted individual, a responsible citizen, or just an all-around happier person. There is a rationale for nearly every program that takes place in a school, so make sure your parents understand that rationale and how their child (or they) will benefit from it.
Parents of middle school students
They are particularly interested in how their child is adapting to growing up, making friends, getting along, fitting in, and what options there are for them to integrate well.
Like the elementary parent, they need to know about schedules, events, deadlines, activities, expectations, and requirements. It's tough being a tween, and helping a student make this transition will win over their parents.
Middle school parents need to know deadlines so they can help their children learn to meet them (reminders help parents succeed at this as well).
Just like the elementary parent, and maybe even more critically, middle school or junior high parents need to know the reason (rationale) for the requirements you are placing on their children. You've got excellent reasons for all that you do, but you need to share it with the parents and win over their cooperation. If you don't have a good reason for it, then stop doing it.
Parents of high school students
Parents of high school students most often want to know how to best communicate with their child's teachers. Do they seem inaccessible (which translates to uncaring) or available (which translates to caring and professional)? Let parents know how to gets answers and navigate your school's internal processes (without making them feel unwelcome or inadequate) just by providing the steps on your website. Sometimes it is as simple as providing teachers' e-mail addresses or a block of time they can be reached to schedule a meeting or phone call.
They want information about graduation and course requirements (and any changes in those requirements when they happen).
They NEED to know why your requirements matter to their child. Why do you have those particular graduation or course requirements? If it's only a state or federal requirement, tell them that. If it will help prepare them for the real world and you can give specific real-world examples, do so. When we know the "why" of something, it makes it much easier to get on board. If the parent is on board, the student is more likely to succeed.
Why should you care that your individual school website engages?
It is to your school's (and your district's) benefit to have engaged and supportive parents. Here are a few reasons why:
First of all, we know children whose parents are engaged in their education do better in school. Children will rise to the level of expectation of those most important to them—their parents. When your students' parents believe in and support the value of education, you have the most important tool in your educational arsenal that you could ever hope to have.
When parents are informed, they learn to trust. They feel that you can be counted on to be transparent and that you are more likely to have the best interests of their children in mind. We LOVE those who love our children. Show them that love, and demonstrate it by sharing relevant stories and examples in your school communications.
When you show respect for a parent's time and resources, you in turn earn their respect. By providing easy access to forms, notifications, calendars, online payments, menus, and schedules, you show that respect. The school's website is open for business 24/7, and no matter what parents' personal work/life schedules are like, if they can get what they need to simplify their life or to participate in their child's education, they will appreciate it. Actually, in this digital age, they expect it, and if you can't provide easy access, they will resent you for it. You are likely to hear about their resentment sooner or later (either through vocal complaints or with declining enrollment).
When you make things convenient and accessible and are responsive to parent needs, you save your staff time. By letting your teachers and office staff stay focused on their primary functions (rather than answering repetitive questions, handling phone calls, or correcting misinformation), you'll enjoy a smoother run school and see better teaching taking place.
In order for all of this to happen, your school's website must be focused on the specific needs of the parents and students attending that school. Is your school website doing that? Or is the school communications and public relations strategy taking place only on the main office website (where your current parents aren't likely to visit unless they are forced to)?
In our experience, it is just as important that your school website and all of your communication efforts keep your current parents happy and enthused as it is to attract new students and their parents. And, a happy parent is more likely to attract new students to your school through word of mouth. Meet their needs with an effective school level website, and you'll enjoy loyal parents who give you the most effective advertising you'll ever have. It's a win-win. The students benefit from engaged parents, your staff enjoys fewer repetitive tasks, and your school gains a reputation of which you will be proud to be a part.
Put those school level websites back in the game, and score points with all of your audiences!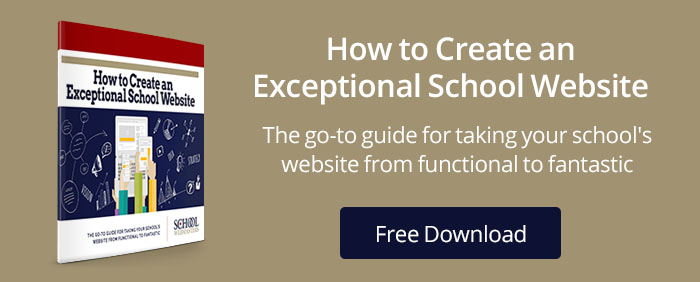 Bonnie Leedy, CEO, School Websites, LLC.